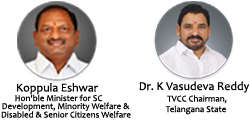 Origin of the Corporation
The year 1981 was declared as the international year of the disabled and hence the state government decided to establish a Finance Corporation for the welfare of Person's with Disabilities and accordingly established the APVCC with headquarters at Hyderabad. The main objective of the Corporation are to formulate, promote and implement various welfare schemes for the rehabilitation/ improvement of the living conditions of various differently abled persons and also to provide aids and appliances, assistive devices, financial and technical assistance to the differently abled persons, group of such persons and organisations involved in activities on the rehabilitation and welfare of such persons.
The Corporation is managed by a Board of Directors headed by Chairman appointed by the Government and Other Members.The term of the board is two years and the Corporation is run as per the by laws approved by the complaint authority as per the Andhra Pradesh Reorganisation Act , 2014 the APVCC divide into two entities as APVCC and TVCC. The TVCC is functioning from 02.06.2014 onwards exclusive for Telangana. It is first of its kind in the Country for applicament of physically challenged persons. The TVCC is also acting as state channelizing agency (SCA) for NHFDC, Government of India and other developmental functionaries to provide economical assistance for eligible disabled persons for their economic rehabilitation and monitoring utilization of loan amounts and ensuring prompt recovery.
Designed, Developed and Hosted by National Informatics Centre, Hyderabad. | Content owned, maintained and updated by TVCC, Government of Telangana.